First Monday Toy Auction
Monday 6th July
Thanks to everyone who took part in our July auction.
Our next First Monday Toy Auction will be held on
August 3rd.
The Item List and PDF Catalogue for our July auction are still available.
Details of the August auction will be available a week before the auction.
---
POWERHOUSE MUSEUM, SYDNEY
---
Featuring Stationary Engines, Garden Railways, 1-gauge, 3½", 5", Aster, Accucraft, LGB, Roundhouse, Live Steam Boats, plus a selection of NSWGR Australian HO
The complete Item List and PDF Catalogue are now available. The printed Souvenir Catalogue can be purchased from our Online Store.
---
FOR SALE
Magnificent HO Layout
Approx. 6 metres in length, breaks into three sections for easy transport, in excellent condition.
Click here for full details and pictures.
---
Next time you're in the Beautiful Blue Mountains, remember to visit our new Blackheath gallery.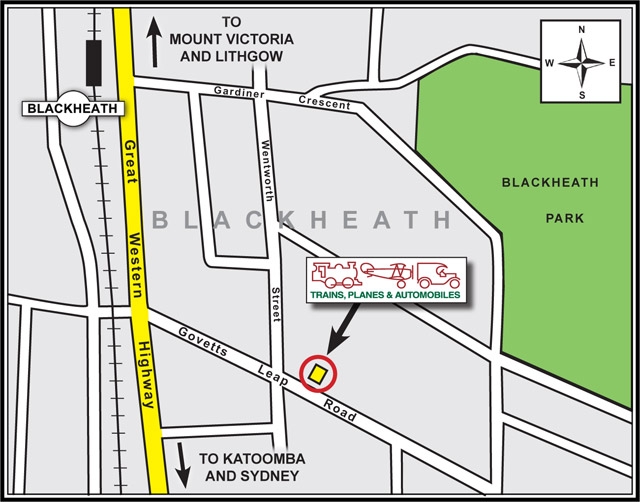 Click the map for a larger version.
Trains, Planes & Automobiles
Now at...
50 Govetts Leap Road
Blackheath NSW 2785
Phone (02) 4787 7974
Open 10:00am to 5:00pm
6 days a week
(closed Wednesdays)
Come and check out our new place!
---
Half Price Specials
Don't forget to check out our weekly half price specials. Every week we select an item and cut its price in half, and we do this with different items in our Blackheath and Annandale galleries, so that's two special deals every week.
These items are often rare and valuable, so you can pick up some great bargains!
Our half price specials are not available online – you have to phone us or come in to see them!
---